Voznesenskaya Sloboda is a park hotel of new generation. It combines up-to-date service and recreation standards while keeping old Russian traditions.
We did our best to create an environment allowing our Guests to escape from vanity and stress
of the big city and lose themselves in the aura of the past
Voznesenskaya Sloboda
Address: 14-b Voznesenskaya ul., Vladimir, 600000
Booking and accommodation service: +7 800 302 54 94
Restaurant: +7 800 302 54 94
E-mail: voznesenka33@gmail.com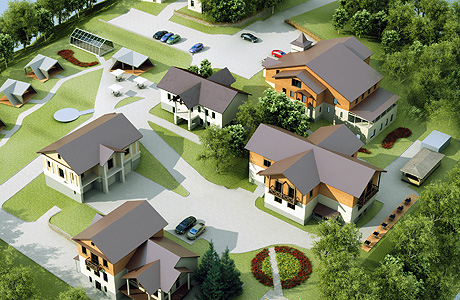 Transportation to the hotel from Moscow
Vladimir city is located 180 km from Moscow in the direction to Nizhny Novgorod. It takes about 2 hours by car to get to the city.
Transportation to Vladimir Starting from Moscow you should:
Drive 180 km straight in the direction to Nizhny Novgorod (M7 road).
How to get to Voznesenskaya Sloboda hotel complex?
1. Once entering the city move along M7 to the Golden Gates located in the center of the city.
2. While approaching the Golden Gates one can see Chrystal Museum and Regional Lunacharsky Drama Theatre to the right. As soon as these sights are passed turn to the right to Letneperevozenskaya ul. and turn to Voznesenskaya ul. Turn to the right at the end of Voznesenskaya ul. and drive straight ahead. On the left you will see Voznesenskaya Sloboda (building 14b), one of the hotels of Vladimir.
---
Roadmap