For thousands of years many nations of the world recognize relaxation and therapeutic properties of hydrotherapeutic
procedures and special emphasis is given to steam. Enjoy all pleasures of hydrotherapeutic
procedures in an exquisite sauna of the park hotel.
The sauna is designed
for a company of 12 people
It comprises several functional areas – spatial and uniformly decorated rooms. Thanks to its architecture and design the sauna is perfect both for private recreation and for a party with friends and colleagues.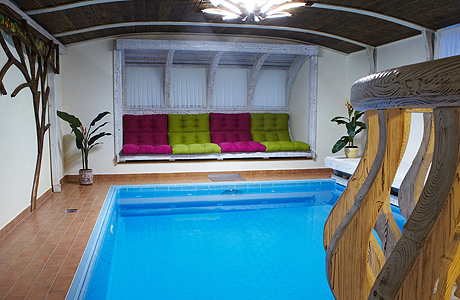 recreation area
The recreation area is equipped with sofa, table, TV, audio system, DVD and karaoke. In the lounge Guests will find a bed, TV and toilet. Floor heating is installed over the whole sauna area. Each Guest is offered sauna accessories (cap, towel, bath sheets, slippers, sitting mats, shower gel).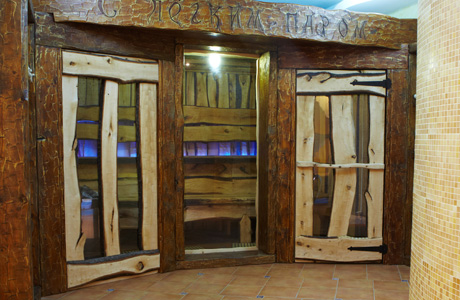 Steam room is constructed of organic materials and meets all basic rules of steam bathhouse
We offer a choice of aromatic oils in order to increase favorable effect of the steam. After good relaxation in the steam room welcome to the pool. The water temperature is adjusted so as to cool and allow long swimming.
For full relaxation we offer wave option. The pool size (4.2 x 6 m) allows for group recreation and the pool lights will add to high spirits. Specific feature of our sauna is interior balcony which extends the recreation area and hangs over the pool.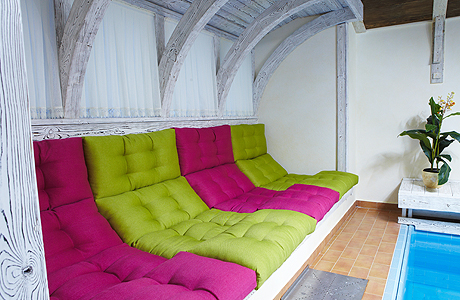 ordering food and drinks
We do our best to make you recreation at most comfortable. You can order food and drinks including herb tea from the restaurant. You can also order relaxation and therapeutic massage.
extra services
Massage is a traditional and wonderful supplement to sauna. Muscles are warmed up after the steam room and maximal therapeutic and relaxation effect can be obtained in short time. These two treatments make the time spent in the sauna really healthy and remove tension and stress.